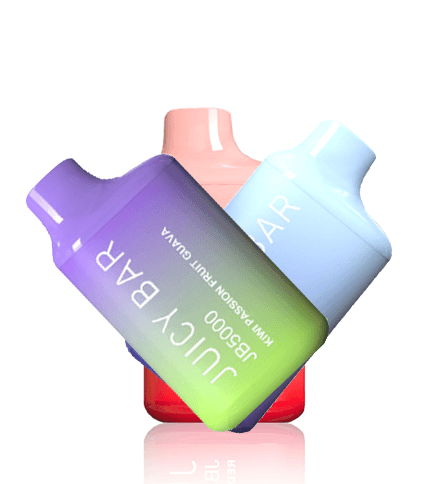 Juicy Bar JB5000 Disposable Vape:
This 5000 puff disposable vape contains a high-capacity rechargeable battery and a delicious flavor that is sure to satisfy. Its sleek design makes it great for taking on the go, and its long-lasting battery ensures you don't need to worry about recharging for a while. Whether you're new to vaping or just want an easy way to puff away, the Juicy Bar JB5000 is the perfect choice!
Juicy Bar Disposable Vape Features:
E-liquid Capacity: 13ml
5000 Puffs Approx.
Integrated 650mAh Rechargeable Battery (Type C)
1.2 Ohms Mesh Coil Heating
Draw Activated Firing Mechanism

Salt Nic Formulation (

5%) 50mg Strength
A Proud American Product
FAQ:
Is the Juicy Bar same as Elf Bar?
Juicy Bar and Elf Bar have a very similar device and functionality but Juicy Bar has partnered up with a different company to procure the juice that we all love so much.
Do Juicy Bars light up when charging?
Yes, Juicy Bar does light up when charging.
How to charge Juicy Bar JB5000 Disposable Vape?
Juicy Bar rechargeable disposable vapes have a Type-C charging port on the bottom of the device. To charge it, you can use a type- c charging cable and plug it into a power source such as a wall outlet. The device DOES NOT come with a charging cable. 
Note: All specifications and descriptions are based on information provided by the manufacturer. Information provided is not representative of testing and/or verification by www.podkingelfbar.com and should be used at the consumer's discretion.