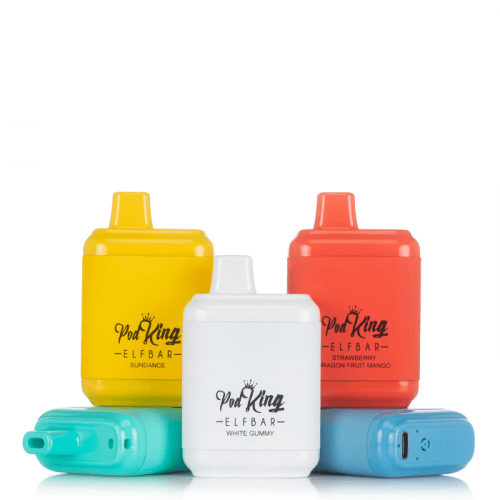 Why Pod King Elf Bar?
This device is the result of the collaboration between the Supreme Pod King and the Mighty Elf Bar. Both the major brands soon realized that the device of Elf Bar is the best and the flavors of Pod King are the best. Flavors are many but the best ones stay, while they come up with new flavors based on the consumer's feedback. 
FEATURES:
Exclusive Flavors
E-liquid Capacity: 13.5ml
5000 Puffs Approx.
Integrated 650mAh Rechargeable Battery - Type C
Draw Activated Firing Mechanism
Mesh Coil Heating
50mg (5%) Strength
What's In The Box?
1 x Elf Bar - XC5000 Rechargeable Puff Mesh Coil 5% Disposable Vape.
Note: Charger is not included.
How Long Does The Device Last?
XC 5000 will last approximately 5000 puffs. You will have to recharge your battery to get at least 5000 puffs out of the device because it has 13.5ml E-juice which is enough juice to last a little bit over 5000 puffs but the battery will be drained.
Is My Device A Counterfeit?
Although, it is a collaboration between the two, each device has an anti-counterfeit scratch off sticker which can be verified 
here
. 
Make sure the device you receive has this sticker with a colorful imbedded holographic line and scan code. We have mentioned this link on the website to help our customers enjoy the original pod king elf bar rather than a counterfeit product.